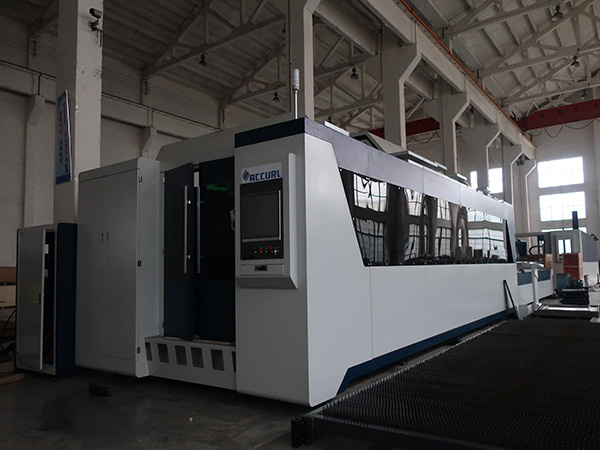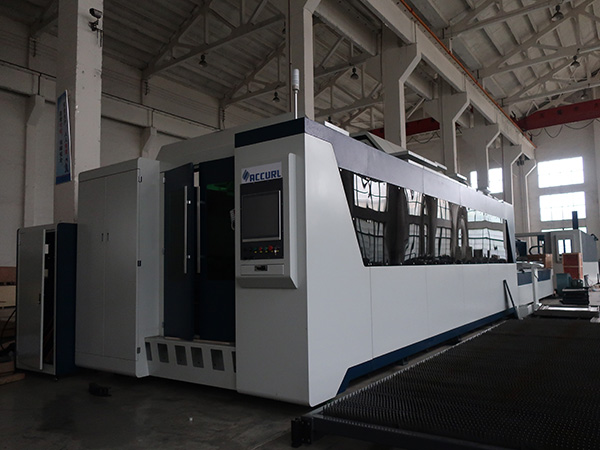 Lastnosti izdelka
---
1.The optical system adopts German technology, which integrates the mechanical following optical path and laser optical path as an integral and independent part. We have successfully solved the key technology of the Gantry moving solid laser cutting machine
2.Standard Full Gantry Laser Systems.CNC : full computer controlled
3.Very Long Lifetime and Steady Performance: it has the most mature and stable technology in laser area, it can promise long term
4.No contact and mechanical distortion, perfect design effect, easy to cut various fragile products
5.Software: our machine accepts designs in vector format for laser cutting
6.In comparison with punching it gives a superior edge finish that requires no de-burring or finishing
Materials:
---
Steels, sheetmetal, aluminium, mild steel,stainless steel, carbon steel, alloy steel, spring steel, nickel
teel,iron,brass,copper sheet, silver,titanium,chromium,steel alloys,steel cutlery,steel cylinders,steel foil,steel
Cutting Zone

2500 * 1300mm

(98.4 in* 51.2 in)

1500 * 3000 mm

(59 in*118 in)

Debelina reza

0,2-8 mm

Laser Route

Fixed Laser Route, Work Piece Moving by Cross Slide Working Table

Način prenosa

Servo Ballscrew

Cutting Positioning

Red Light Pointer

Operating System

Windows 2000/XP

Max output power

650W

Laserska valovna dolžina

1064nm

Pulse frequency

1-300 HZ

Min.linewidth

0,15 mm

Electrical source

380V/50HZ/100A

X/Y/Z axis geometric positioning accuracy

≤±0.08mm/1000mm

X/Y/Z axis re-orientation accuracy

≤ ± 0,04 mm

Nadzorni sistem

Offline Motion Control

Hladilni sistem

5p water cooling

Največja hitrost rezanja

35mm/s

Utež

3600/4000kg
Customer Service:
---
1. We provide one year warranty and lifetime maintenance, not included normal replacement of wearing parts.
2. Also we provide online and telephone service 24 hours a day, when it is necessary, we will send technician to the customer side to solve the problem.
3. User-friendly English manual and CD for machine using and maintaining.
4. Self-developed English software can do all kinds of pattern recognition.
Pogosta vprašanja
---
Q: When the machine can't work well,What should I do?
1.Our machine with one's year warranty, If any machine parts have the problems under "normal use",you could contact us any time.
2.We will rest assured that CD vedio and manual will be offered along with machine,it make you can operate the machine easily.
Q: Why i should choose NICE-CUT? What's your competitive advantage?
1. Safe and good quality: three years Alibaba golden supplier and CE,FDA certificate, strict quality control system
2. prompt delivery: production time 7-15 workdays
3. Competitive price: Nice-Cut is a factory, not a trade company
4. OEM/ODM: Customer's Designs and logos are welcom, we can customise the machine according to your working area
5. strength company: take part in the exhibition of the world
Hitre podrobnosti
---
Uporaba: lasersko rezanje
Stanje: Novo
Laser Type: YAG, YAG
Uporabni material: kovina
Debelina reza: 0-8 mm
Cutting Area: 2500*1300mm/1500*3000mm, 1500mm X 3000mm
Cutting Speed: 200mm/s
CNC ali ne: Da
Način hlajenja: vodno hlajenje
Control Software: orignal
Graphic Format Supported: AI, BMP, DST, DWG, DXF, DXP, LAS, PL
Certification: ISO, SGS
Poprodajna storitev: Inženirji, ki so na voljo za servisiranje strojev v tujini
key word: mild steel Cutting Machine
Laser Power: 500W
Laser Generator: YAG Lamp Pump Solid Laser
Transmission Method: Servo Ballscrew
Cutting Fix Position: Cutting Fix Position
Fix Position Precision: 0.015mm
Control System: Offline Movement Control
---
dobavitelj laserskega rezalnega stroja